Let me start by saying I have the worlds crappiest digital camera. *hopes Santa pays attention this year and doesn't CHEAT ME, bastard*

Okay the run-down. Emily, our littlest, has REFUSED to trick or treat. Up until this year. Like, screaming hissy fit. So I was super excited that she was jazzed for dress-up this year. I only had to make three costumes before we got her to comply. Brat? Nooooo. She started off as the Corpse Bride, then hated it. So... Sally from "Nightmare Before Christmas" it is! But... black wig, not red. Oh, well. Mr. S in his infinite wisdom *cough* took all the pictures OUTSIDE. In the dark. Without a flash. Which I discovered this morning. So I've tried to lighten them up as best as I could...



So. The boy was Darth Vader, but you couldn't see his handsome face, so I uploaded the pics of him sans mask. He had the breathing and the "Noooooooooo!" down pat. Hee hee! *siiiigh* He's going to be dreamy when he gets older. Mother's bias? Sure, sure. and yes, I am aware that Emily looks like Samara. Ha!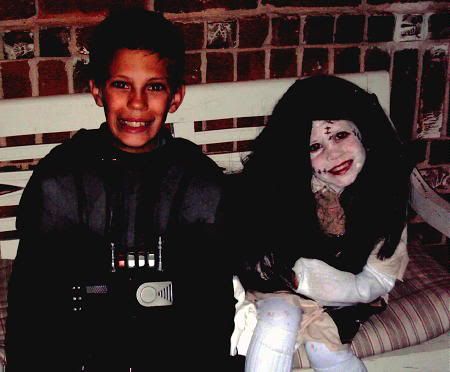 One more, because they've been bickering lately and I was SO GLAD the two of them were ENJOYING each other's company.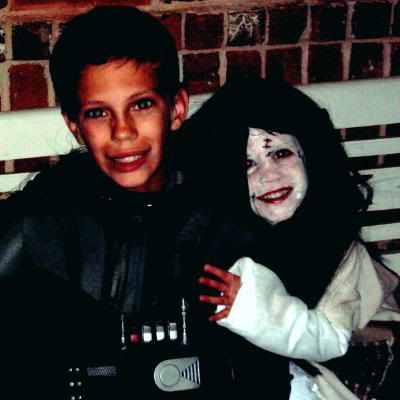 You can't see it, but "Sally" has stitches down her arms, up her neck, etc. I TRIED! It's hard putting makeup on a squirming 4 year old. And here's where we realized she could pass for Samara. Niiiiiiiice. Guess what you're going as next year!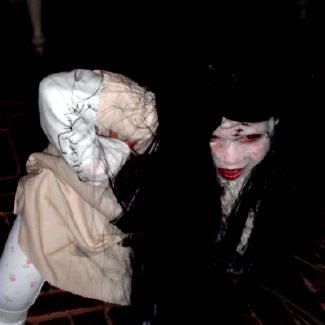 My Number 2 - third grader, wanted to be a "cute devil." Can you believe not ONE store had a devil costume? Correction. Not one NON-SEXY, THIS IS FOR A CHILD, I'M NOT RAISING A WHORE, I THANK YOU, Devil Costume. So. Black unitard, black yoga pants, black boots, and tail and horns. *cough* Her friend, SHEBLI (remember her? Crap. They ran into her last night) was dressed like a Pirate Whore. Oh, I'm sure that's not what the costume box said... I don't think... but. Half shirt that laced up IN THE FRONT like a corset. With NOTHING underneath. Are you picturing this? Skin exposed between the laces? On her FRONT?? Tiny skirt with handkerchief hem - you know: like it's ragged and torn? TINY. And platform boots. Knee high. Number one: it was 50 degrees. Number two: the child is 9. Number 3: her parents let her go BY HERSELF. Thank god Mr. S was there. Can you IMAGINE? We live in a gated community, but are you trying to tell me perverts don't own houses? Not to mention the possibility of being hit, or falling down, or getting lost in the dark.... GAH.

Okay. Here's my beautiful Morgan. (Yes, yes, mother's bias.)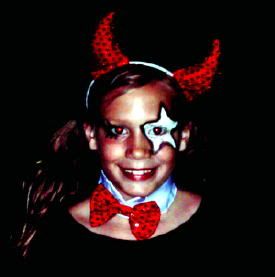 And Morgan and Emily. (GOD, Morgan is tall! She's 8!!! 4'5"? That's tall, right?)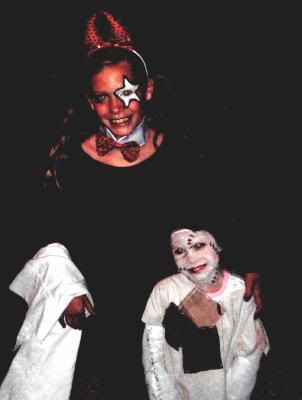 And now I have more candy than I know what to do with. At one point, I ran out while passing out candy, the boy came back (was bored) and I ransacked his pillowcase (we're old school, yo) for the crap candy. "And a Bit-O-Honey for you, peanut butter wafer thingy for you, and some cheap, turquoise Brachs hard candy thingamajigger for you! Don't egg me!"

ARE YOU ACCUSING ME OF GOING THROUGH THEIR BAGS AND STEALING THE YORK PEPPERMINT PATTIES AND SNICKERS AND 3 MUSKETEERS AND BUTTERFINGERS AND HIDING THEM IN MY DESK? ARE YOU??? Okay, just one of each. THEY DON'T NEED TO EAT ALL OF THAT ANYWAY. And those new Butterfinger crunchy things. But only two. THEY GOT PLENTY, HUSH.

OH! I had a Tiny Elvis come to my door. He was... 20 months? Could barely hold his bag? And he said: "Thank you. Thank you vewy much." I DIED. His dad was cracking up, then cuddled and kissed the boy - they had rehearsed. *laughs* Not many imaginative costumes. Lots of store bought ones. Okay, yeah, my kids too, I know. Except for Emily, who remains my favorite for letting me play with her. NEXT YEAR THEY ARE COING AS CONTRACTIONS. Or something with 3. I don't know. THE TRINITY!!!! Ha ha ha! I'm going to get run out of town. And I WILL DRESS UP, dangit. Mr. S went with
anelith's costume idea (we were in a time crunch and I couldn't get anything for us - poop!): Arhtur Dent: robe, towel, empty tea cup, bewildered expression, and a "Don't Panic" button. Heee! No one got it. I laughed at least. Stupid illiterate Republican neighborhood.

YES I HAVE HAD SOME CANDY THIS MORNING - WHY DO YOU ASK? *bounces*

[ETA: For Eh? Factor in the haul from last night] Okay, got new toothbrushes - yes, from the dentist - not interested in drumming up business, is he? Granola bars - my kids thought that was cool. Noise-makers - THANKS. No. Really. "Come on, kids! Let's go stand outside the nice lady's house and blow REALLY HARD." And 2 Jesus tracts. "Trick? or TRUTH." Awesome. "It isn't always fun to be afraid. Let Jesus save you from Satan." And I quote. I need to see if they got tp'd. and #2: "Say, let's make this a REAL HALLOWEEN!" What? string up witches and burn them for being pagans? Take the blood of a virgin after she's been rutted by the tribe elders and sprinkle it on the crops for a good harvest? OH. Pray to Jesus. ...huh? "Thank you for coming to my house and letting me share the love of Jesus." Well... we would have preferred smarties, thanks.