Granted, it's going to be crappy picpsam, but I'm getting ahead of myself. TODAY IS THE LAST DAY TO SIGN UP FOR THE GUD SUMMRIES FUNAFIC FICATHON WHATEVER. Go here to add your final choice, if you haven't already! Wheeee! Emails coming Memorial Day weekend (May29th, for UK/Ozians) as a reminder for the due date of July 4th.

Now, a little bit about my digital camera. It sucks. No, really. Mr. S bought it. He looked for "bargain" instead of "ability to take pictures you actually would keep." Keep in mind:



the camera blows


my garden, like me, is better looking in person


my garden, like me, is a year and a half old (wait...)


everything in my garden was started either by seed or 4 inch cutting last year, so don't compare your LUSH PENNSYLVANIAN GARDENS, zomg.


It's Texas. Prairie. *sighs*





First off, this is an Angel's Trumpet (Datura, not Brugamesia, Julia.) and will grow to about four feet high and five feet around. Got the very first bloom this morning.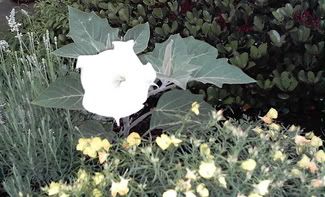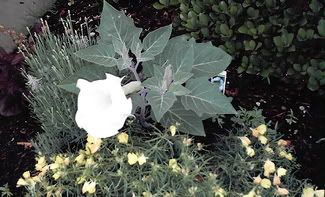 Behind it, about a foot is one that blooms eggplant on the outside, white inside. LOVE this plant. (the flower is nine inches in length. See? Crappy camera.)

This is my climber, put in June last year, about six inches of stem. It's done well. Currently it's 24ft. high. That's the top of my office window next to it. Got three blooms yesterday, we stopped counting buds when Em and I hit 30. I'll take more pics when it's in full bloom.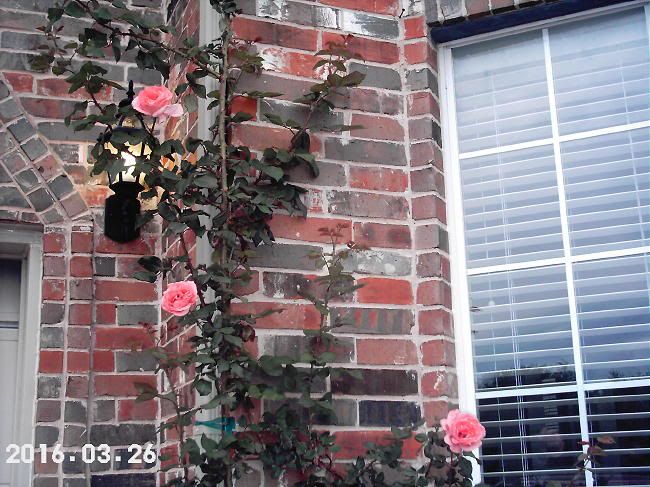 This is a bed I put in along our driveway last August. Everything is a Texas native. GOD I hate our camera. That's 26 feet long. Can't tell, can you? :(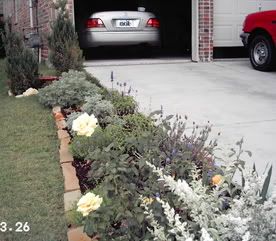 For those who want to know, spirea in front (the feathery, plumey foreground, yellow rose, lavender, bluebonnets, autumn sage in the middle, silvery shrubs are Powis castle Artemesia, blue point junipers in the back. They'll get to 15 feet.

Here's the house of Stoney! Be it ever so humble... (The bay window is my office.)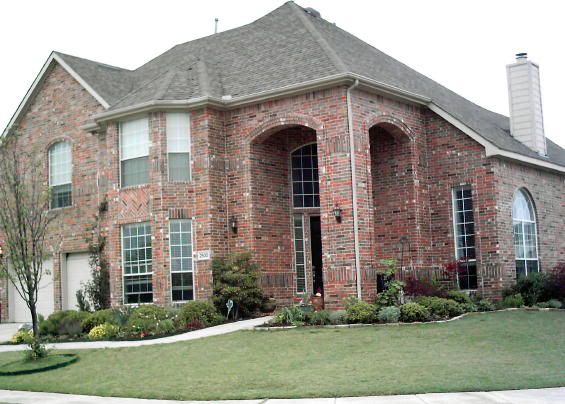 This is my kitchen bed. Again, roughly 26 feet in length, and my camera sucks. Did I mention that? Basil, bee balm, rosemary, curry, oregano, five kinds of thyme, thai basil, lavender cotton, and a JFK rose that needs some work. Ergh. (foreground at right, beautyberry - gets to five feet in height - bare space to the left is for peppers, TAM jalapeno)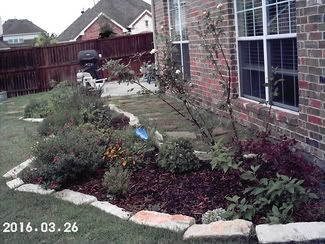 Eventually that concrete patio will be all flagstone with a pergola over head, one support will be stone with a built in fireplace for wintertime outside goodness.

And these are just funny pictures I found while trolling the web. AWWWWW! And HEEEE!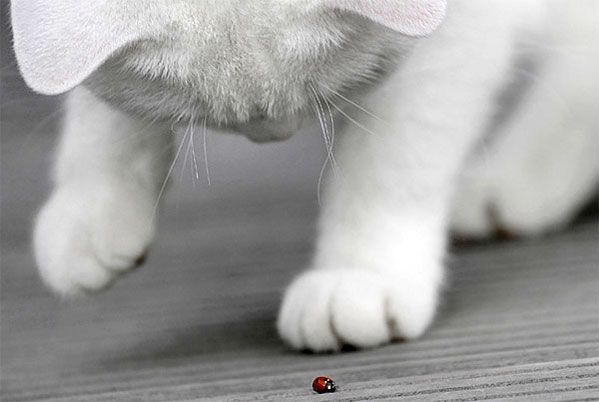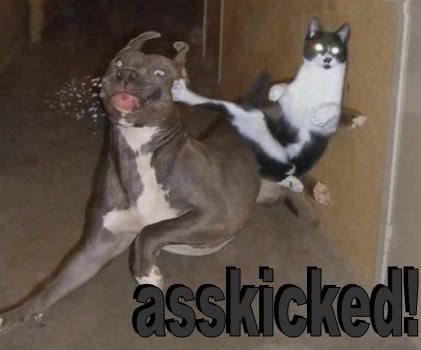 That last one came from "funkygraphics" Hahahaha!! Isn't that hilarious?? Are you making kung fu sounds?

HAVE A GREAT DAY EVERYONE! I'll post the masterlist to the FicaFun (Funkyfic?) tomorrow! (Off to shop for a birthday, then back later, for those who care about such things. :* )