This is so not work safe. It's just... it's not HUMAN SAFE.



I like tattoos. Good tattoos. Some tattoos turn me right the hell on. Heck, I have a tattoo. Some are lame. Some are poorly done. Some are cheesy.

And then you have these.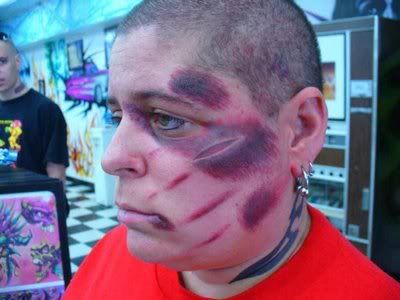 That is a TATTOO. Someone paid someone else to make them look like they got the shit beat out of them. I would have done it for FREE.





COCK DRAGON!!! Oh my chickens and eggs, that looks like SERIOUS OUCHIE happening. Cock dragon. Totally changes that joke about the guy with "WY" tattooed on his knob that becomes "Welcome to Wisconsin, have a great day!" when hard. This guy goes to bed with a Richard Scarry earthworm and wakes up with Eragon. (Seriously - intricate tattoos have to get refilled in! So... was he hard? OH MY GOD. Can you imagine the hard core artist with Pennywise on his skull having to hold a hard dick in his hand and POKE IT OVER AND OVER WITH A NEEDLE????)






WHY?? WHY. WHY! WHY?!?! Girlfriend: no. En. Oh. NO. That is NOT hot. That is not "cool." The only guys (or girls) that are going to dig that are parolees running meth out of their grandma's kitchen while still living with their moms. Who steal from their baby cousins to support their habit, but won't sell their collection of pewter dragons and wizards to get Taco Bell for dinner. And who come up with new and unique ways to "jazz up" Ramen noodles. "Hey, cook it in bong water, add the cheese dust from the inside of a Dorito's bag, and sprinkle a red pepper flakes packet from Pizza Inn over the top, and you're talking some A-Line eatin', bro!"



WHAT IS WRONG WITH SOME PEOPLE???

AND I DO NOT KNOW WHAT I AM LOOKING AT HERE. I... WHAT AM I LOOKING AT HERE???