Meme ganked from
liz_marcs: My Top 5 TV OTPs! *ignores the oxymoronishness*



1.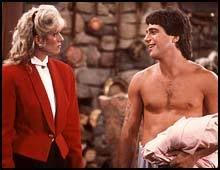 Who: Tony Micelli and Angela Bower: Who's The Boss
Why: He's the guy with street smarts and the parenting skills (aww) that can tame this uptight, neurotic Connecticut harpy's heart one lasagna at a time. Plus, she had killer black roots and loads of cash. Hope from Days of Our Lives was on this show as a past lover of Tony's. Which is weird and unrelated. The hope is that Angela has some of her whorish mother's skillz in the bedroom. But let's face it: Mona was the boss. They all but had her in dominatrix gear. I like to say "An-guh-luuuuuh!" like Tony at random moments in my home. LIKE WHEN I'M MAKING LOVE. It keeps my husband on his toes.
What: Dialogue to die for

Tony: Something about how you are caucasian and can't cook'a the spaghetti! *fangul hand gestures*
Angela: I have a ginormous stick in my butt and you are muscley and low class! I will pace now to ease my sexual frustration.
Tony: I'm inadvertantly bending over and showing you my taut Italian Stallion ass.
Angela: *clutches ribbon at neck*
Mona: I'm going to be in my apartment over the garage giving hummers to old men. Don't do anything I wouldn't do.
Tony: Ay-oh! Oh-ay! Anguhluuuuuh.

[ETA] from comments. Runner up for the femmeslashers, Carol Seaver/Sam Micelli. It's the same dynamic, hahahahaha.




2.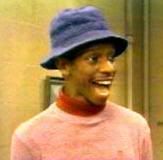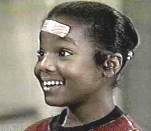 Who: J.J. Evans and Penny
Why: He's the sassy, dumb kid with a heart of gold that mocks his sister like he's 15, but he's not. She's the sad little urchin hiding in her mama's house - decorated in the best of the 70s pimp wear - and wishing for her Black Prince to come. She'll settle. GOOD TIMES! (any time you need a payment.) GOOD TIMES! (anytime you need a friend.)
What: Dialogue to die for

J.J.: Van Gough, and Rembrandt, don't be uptight, cause here comes KID *clap* DYNOMITE
Penny: *beams* Oh, J.J. You're so smooth and lanky. My mama beats me.
J.J.: Er, uh, heh heh, well you know... what can I say?
Penny: Say you'll call the cops. Didn't you hear me say that my mama beats me? SHE PUT AN IRON ON ME. Go get me some of Thelma's clothes.
J.J.: Man, you jivin'. *paints*
Michael: I'm just going to educate the viewing public on some black history meta, don't mind me.

Runner up: Willona and Bookman, aka Buffalo Butt




3.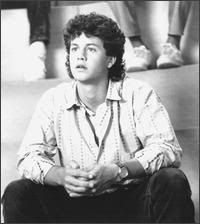 Who: Mike Seaver and his Mullet
Why: Smart alecky ( but not the kind that would get you thrown out of school), respected his parents, and a curly mullet juuuust long enough to not get you thrown into your locker by the really tough kids, but not long enough to be off-putting to parents. Plus, he's not as skeevy as Buddy from Charles in Charge.
What: Hair products to die for. Because the Last Days are coming, and you want to look good for Jesus.




4.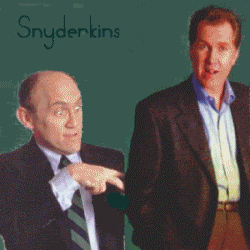 Who: Principal Snyder and Mayor Richard Wilkins the Third
Why: Soon to be demon (literally) that destroys all of the world, starting with the students of Sunnydale High. Demonic (not literally) Principal destroying the world of her dreams one Sunnydale High student at a time.
What: Dialogue/Characterization to die for

Snyder: There are some things I can just smell. It's like a sixth sense.
Mayor: *uses copious amounts of hand sanitizer*
Snyder: These little rat-fink punks think I don't know what's going on. I know everything that's going on.
Mayor: Except for what's really going on. *eats babies, steals relics*
Snyder. Order. Discipline. *shudders* DETENTION.
Mayor. Sure, sure. Say, we call that busy work where I'm from. Good job. *eye roll*

Runner up: Spike and that chair he was tied to when he said "You made a bear! Undo it! Undo it!"
Second runner up: Spike and the Bear. They had mad chemistry, yo.




5.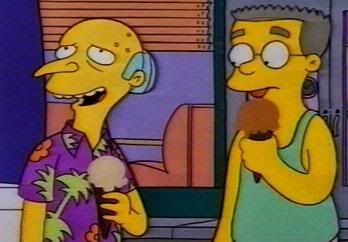 Who: Mr. Monty Burns and Mr. Wayland Smithers
Why: The gayest couple that never coupled. Plus the Sub/Dom factor. Times the pining from Smithers. Divided by the age difference. To the haha power.
What: Dialogue to die for

Mr. Burns: Smithers, do you think maybe my power plant killed those ducks?
Smithers: There's no maybe about it, Sir.
Mr. Burns: Eeeeeeeexcellent.

(hahaha. I can't fake them. I looooooove them.)

Runner up: Principal Skinner and Groundskeeper Willy. (Ya uuuuuuused me, Skinner! Ya uuuuuuuuuused me!)
Second Runner up: Comic Book Guy and first issue of Ultraman, mint. Worst. Post. Ever.