I made a CD (hahaha, mix tape to show my LOOOVE) for my friend Alison, who I'm off to help unpack her thangs in her new cute place in a little bit. I figured she's not the only one who's been through a divorce/breakup/rotten time so I upped it for my loverly flist.



The goal: allow her to feel sad, but finish off in a butt-shaking, hip swaying good mood. And... not recycle the songs I've used on the billions of other mixes I've made. Loads of new music here, yay!

The Five Stages of Grief

Denial/Dreamstate
1. Morning Will Be Kind - Midlake (really quirky and dreamlike, and the singer sounds like Kid A Radiohead - really!.)
2. Strawberryfire - The Apples In Stereo (this is like... the Beatles. Yellow Submarine-ish.)
3. Tell Me What To Do - Jim Noir (ooooh, I like this song.)

Anger/Frustration
4. Communication - The Cardigans (such a lovely song that tells you to fuck off for not listening)
5. The Last Time - Gnarls Barkley (I'm stretching it a bit, here, but it's butt shaking and uplifting)
6. A Letter To Elise - The Cure (you can't have a sorrow album without these guys or The Smiths. Also, this song is awesome.)

Bargaining/Wishing
7. Bulletproof...I Wish I Was - Radiohead (are you kidding me? I can't have a mix without Thom Yorke somewhere)
8. Bones - The Killers (I'm... embarrassed to like this song. I HATE THE KILLERS. Because they're faux Mormons. Pah.)
9. All This Time - Heartless Bastards (isn't this the chick from The Detroit Cobras? Anyone?)

Depression
10. Get Me Outta Here - Jet (this is more angry than depressed, but you know what they say depression is? EXACTLY.)
11. Lord Give Me A Sign - DMX (ooh laws. This is the song from last week's FNL. AND IT'S DMX, so... it's awesome.)
12. Farewell - Rosie Thomas (so sad and pretty and sweet and sad)

Acceptance, aka: WHOO HOO!
13. Yeah! - Golden Dogs (still love this song.)
14. SexyBack - Justin Timberlake (don't you judge me. I ♥ him)
15. Move By Yourself - Donovan Frankenreiter (still love this song, too. Such a hip 70s funk vibe)
16. I Will Survive - Cake (Come on. It's obligatory. It's like having to put "It's Raining Men" on a gay man coming out mix. PLEASE.)
17. I'm Bossy - Kellis featuring Too Short (because she's getting her groove back. And no, her name isn't Stella.)

I hate Windows Media Player, because it erased the names. BUT! I hand-coded them back in, so hopefully the DL won't be a douche. On YSI: 58 MB - 5 Stages of Grief And while it's not required, it's sure nice to hear who is taking music. Because... it's polite, and you weren't raised in a barn, were you? My apologies, Jesus. Oh, he was just BORN there. Anyway, even if I don't know you, it's all cool to know I didn't waste my whole morning getting the bugs out and putting this up. *beams becomingly*

Speaking of putting things in a box... (Shh. I still have Timberlake on the brain.) I ordered apples the other day and they came in a nice box with a refrigerated pad. And... I have cats.



Darthanne gives it a whirl: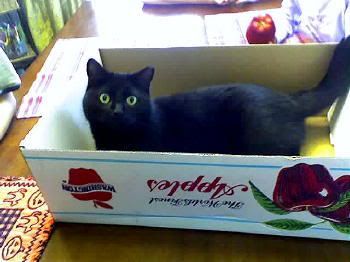 Hope thinks this is a lovely place to look out the window. Plus, she's protected! Somehow...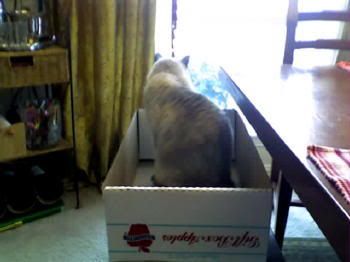 These pictures were snapped within ONE MINUTE of each other. Weirdos.

1. Put down a box.
2. Put yo cat in that box
3. Take a pic of that box
And that's the way we do it!