Mr. S has the week off due to his crazy-long hours the past few weeks, and it doesn't count as vacation time, YAY!
Which means he'll be around this week to help me do honey-do chores, YAY!
And maybe take me to lunch, YAY!
I'm going to see the BFF this weekend and go ride her newest horse, Caroline, who apparently is "full of beans," YAY!
I get to help design a garden for her new ranch in FLAHrida, YAY!
Trip! YAYAYAYAYAY!!
It's going to be 72 degrees today, YAY!
chrisleeoctaves has a post about kinks, which means easy clicking for fics that are naw-TAY, aw-yeah, I mean, YAY! (which means you need to go link up your kinkiest fics, AHEM)
A whole new week with no mistakes in it, YAY!!

Here's a pic of Caroline, the rescued SPCA horsey, after gaining some weight - she was underweight from "trough competition":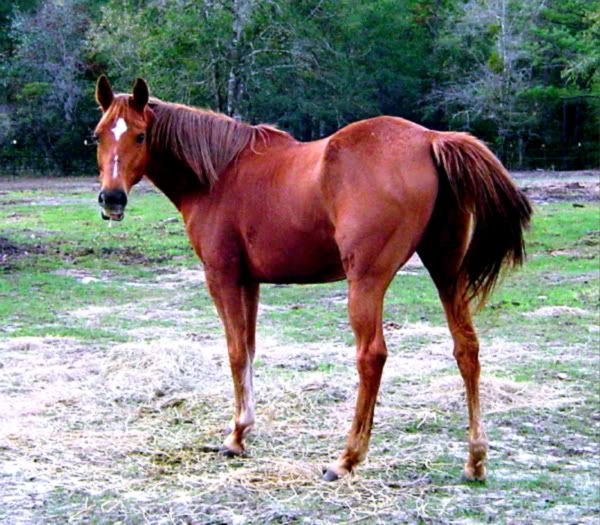 This is Doc's girlfriend. Doc is 26 long in the toof - even though he has hardly any left, and a Moste Sociabel Hors. He was lonely, so Chrissy (BFF) got him a girlfriend. Awww. They snorgle and walk together in the sunset, holding hooves and whicker at one another. BEEP! Apparently, she's not a good candidate for bareback - she's a former barrel racer, so she wants to HAUL ASS, so I'm going to have to get use to saddle riding again. I expect to come back Sunday night tea-legged tow-legged bow-legged Milligan. Or I could ride the old grandpa pony... OR BOTH. I'm so happy!! I've missed ol' Doc. He took my boy on his first horse-ride when The Boy was four months old. Heee!

Speaking of horses, Sally needs a' walkin'. She's full of beans today, too. *loves and squishes everyone EVER*

[ETA]: My Not-So Secret Boyfriend Will Ferrell on the Oscars last night. I LOVE HIS FLOOF. YAY!