1. This weekend the Mr. and I chopped down our horrible Bradford Pear tree that was half dead (yay!), ground down the stump, removed over 1 ton of grass from the front/sides (sod cutters are FUN), dumped 1 ton of compost onto the bare earth, tilled it in, planted a Mexican Plum tree and a Chinese Pistache (omg we're international) and covered the tilled ground with a half ton of mulch. When it stops raining, I'll add more plants. To say that I'm tired is an understatement.

2. I've got a question about sewing draperies for those on my flist that do that sort of thing

I'm making some pretty intricate drapes for my kitchen involving three pieces: 1 top fixed, inverted pleat valance, which I've got covered (made my own pattern! *beams*) and 2 standard drapes to be hung by rings off a standard rod.

The question is regarding the lining and a high-quality finish on the tacking part (where the sides of the drapes are hemmed and tacked on to the lining.) In custom shops, I've seen where the tacking looks like a whip-stitch, and it's very attractive. However, it's also like a blind stitch, in that you don't see the stitches on the front panel. Does anyone know if this can be done on a residential machine, or is that only capable on a commercial machine? I'll just hand-tack it, if it's not possible, but obviously I'd prefer to let a machine do it for me. And note: it is not a blind stitch - it's something specific for draperies that I have no idea what it is called.

I want to make them as nice as possible (duh) since they'll be one of the first things a visitor will see in my house. Also, I'm assuming that type of finish helps them hang better. They'll end up being 102" long, so getting them to hang properly es muy importante. This freaking window is a pain in the butt, fo sho.

Here's a crappy rendition of how they'll look when done. (Brown linen for the base, a pretty beige/robin's egg blue/tan/chocolate/thin outline of brick red paisley for the trim. I've got a neat burlap braid that will transition the two fabrics into each other. The top portion is hanging off a series of carved wooden tie-backs, 5 across the top, two on each side, with inverted pleats at each tie-back.)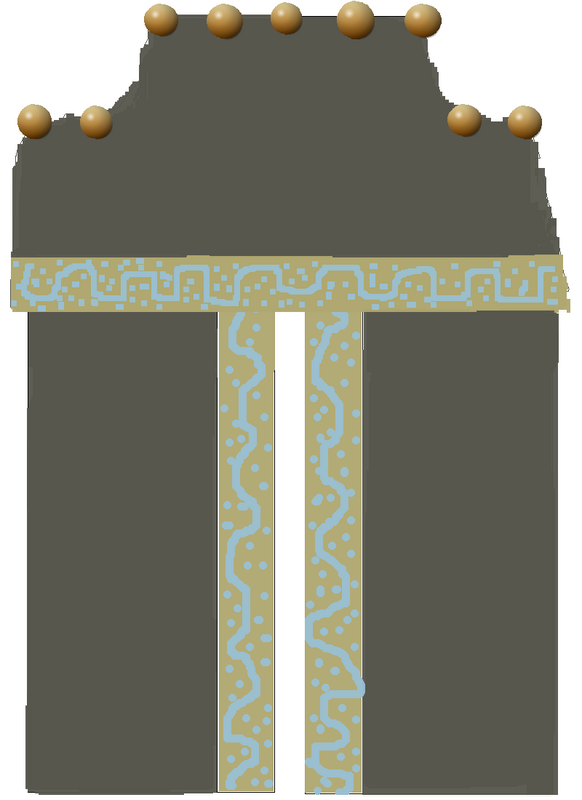 So. Anyone?
[ETA] I'm almost positive that those panels at the custom workshop were finished off with either a 1 or 2 stitch overlock machine. Bah. If anyone knows how to get a Brother sewing machine to duplicate that, please let me know!

3. I've got a little sicky (Emily) at home today, and I'm trying desperately to find a flight during a specific period to Boston, and not having any luck.
entrenous88? Email coming soon.

4. And finally, thanks to everyone that responded to my post about my movie's trailer. I'm so pleased so many of you see how fun/funny it's going to be! (Um... I'm the one that doesn't look like Sarah Michelle Gellar. Also, remember all that talk about how I'm playing a dirty, ugly whore? That should make it easy to figure out who I am in it. *g*)

And now I go lie down after taking some muscle relaxers and Advil. Geh.