In Sparkle-News, I made up a drinking game. Now, this is the kind of game that will get you seriously hammered, if not dead from alcohol poisoning. Smeyers: She really, really needs a Thesaurus, stat.


Every time you read the words:


GHOSTED
BEAUTY/IFUL
OBSESSED/IVE
CHAGRIN
UGH
RAINBOW SPARKLES
DAZZLE/LING
PERFECT/TION/LY


you take a drink. Call the hospital and set up a donor liver before starting, because GOOD LORD, Perfect will raise your blood alcohol to death levels.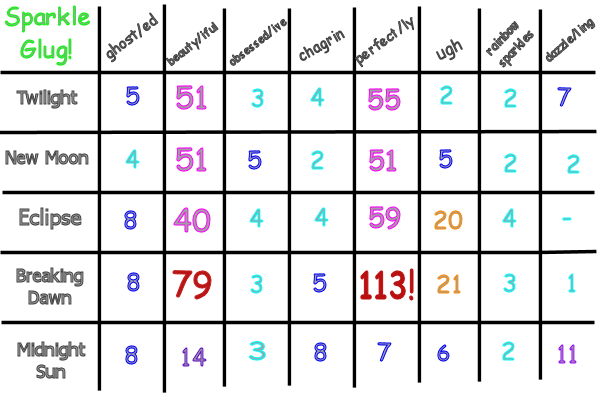 You'll notice that I've included the leaked book, Midnight Sun, and keep in mind it's only a handful of chapters, so the count tally for the possibly finished version will be way, WAY higher. And talk about laziness... It's Twilight, all the same dialogue, but from a different POV. And oh! I forgot all the stalker moments! i started counting every time Edward was really creepy/stalkerish (he even refers to himself as a stalker. UM, WHAT.)

Total count for the 12 chapters? 15. And that's a conservative number, because I counted all the stuff that happened IN ONE NIGHT as one. Dude, he reminds himself to buy OIL so he can make it so her bedroom window won't squeak. You know, because he doesn't want to WAKE HER UP while he's watching her. THAT IS FREAKY, SMEYERS.

Someone needs to record how many times Bella's heart stops beating/she stops breathing due to the nearness and perfectness of Edward. That's a double digit, for sure.

Okay, back to photoshopping "Jacob's" head on Professor Lupin. Hahahaha.